I signed up to do a graphic design course two years ago, paid for by my old workplace with the view that I would be able to use what I learned to further the aims of the organisation.  I left the organisation last year, with my course unfinished.  The course was through the web-based London Art College and I was unsure at first how useful the qualification would be – I've never done any distance learning before.  I found it extremely helpful in the end – my tutor was very supportive and I was glad to have some constructive criticism of my work from a professional graphic designer.  The briefs for the course were interesting and varied and my confidence has increased greatly as I tried new techniques instead of relying on my PC to do most of the work for me!
I never studied art at school.  I always blamed my sciencey-type parents for that.  Mum was a physics teacher and Dad was a chemistry teacher.  Art, although appreciated in our house, wasn't considered a plausible career option – in common with many families.  It was all I was interested in – I was good at other things, but all I wanted to do was some kind of design – architecture, fashion or art.  Then I ended up studying medical biochemistry.  The reality of course is that, although I was encouraged to do science by my folks, one of the reasons I didn't end up doing art was because I didn't demand to do it.  This was perhaps because I didn't really like the art teacher I'd had in first and second year.  I really hope that when my daughter is older, she feels free to have an opinion or a preference that is different to mine, without thinking that it will affect our relationship.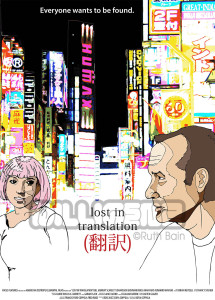 Anyway, I completed the course (with a 'Distinction') and have refound my motivation to do more with my time and abilities.  Sadly lacking for the past few months.
I even managed to complete a poster for a brief on the IdeasTap website to produce a poster for one of a selection of films directed by women for the Birds Eye View Film Festival.
Next I'm looking to learn how to take decent photos.  I can make a bad photo look okay, but I can't take good photos for shit!  Also figure out why my blog looks like crap on Internet Explorer.