T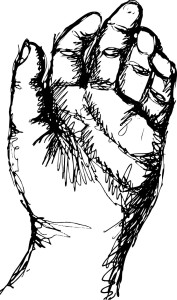 oday's Sketchy Sundays are an empty cage and an open hand.  Bit skew-iff in both cases, but I had too much coffee this morning and I couldn't draw a straight line for shit.  No, seriously – jittery as fook.
In my head, there was a tiger in the cage.  But I didn't get around to it in the end.
Drawing at church takes me back to my childhood when I was made to sit through sermons by my mum.  However, I have yet to receive a disapproving look for the drawing or indeed for keeping my eyes open during prayer times.  In your face, childhood discipline!
Talk today at Re:Hope was on Posture.  Summary: Postures matter to God so pay attention to what your body is saying.  Mine was saying 'Caffeine overload!' today, but I think God understood.